Some of the links in this post are affiliate links. This means if you click on the link and purchase the item, I will receive an affiliate commission at no extra cost to you. All opinions remain my own.
If you've been in search of a solution to grow or regrow your hair then today I want to tell you about how to use onion juice for hair growth and thickness right from the comfort of your home.
You may have heard jokes about how onions can make you cry or you may even use it as a regular ingredient when cooking…
But the truth is that these little shrubs have a lot of other important uses than just adding flavor to food.
In fact, one such use is as a home remedy for supporting hair growth and preventing hair loss.
Yes, that may sound a bit weird but there are a few studies that have been done that show that onions are quite effective at not only combatting hair loss but also in regrowing your hair naturally.
And today you are going to learn why this onion juice remedy works, how it works, and exactly how you can apply it so that you too can experience longer thicker and stronger hair.
Before I get into the steps to prepare your onion juice and how to apply it to your scalp for best results, let me just say that if you are losing your hair, you are not alone and all hope is not lost.
There are millions of men and women all over the world that are experiencing some form of hair loss or receding hairlines.
And this could be for multiple reasons.
In fact, according to data from the American Academy of Dermatology, about 80 million men and women in the US alone face some form of hair loss.
A small study appearing in the Journal of Dermatology indicates that when applied to the scalp, onion juice might help regrow hair in some people.
More studies still need to be done to ascertain the benefits and effectiveness of this common vegetable, though.
But As it stands, many people seem to be benefitting from this hair maintenance routine.
But before go further on how to use onion juice for hair growth, let's first understand how this pungent-smelling juice may help.
Here's What You Are About To Discover:
Understanding How To Use Onion Juice For Hair Growth
Want to save this post so that you can come back to it later? Click the image below to add it to your Pinterest Account!
The Benefits Of Onion Juice For Your Hair
Click Play Below To Watch The Video
You can watch this video on Our Youtube Channel!
Prefer To Read? Continue Below!
The nutrients naturally available in onion juice can increase hair volume and strength. Numerous studies have concluded that onions have certain properties that enable them to be a catalyst for natural hair growth.
What's more?
The juice may help nourish dormant hair follicles making them more likely to produce new hair strands. As such, it can be of help to you if you've been experiencing symptoms like:
Hair thinning in temples

Weak hairline

Receding hairline

Increased hair loss
The Properties Of Onion Juice That Makes It So Amazing For Hair Growth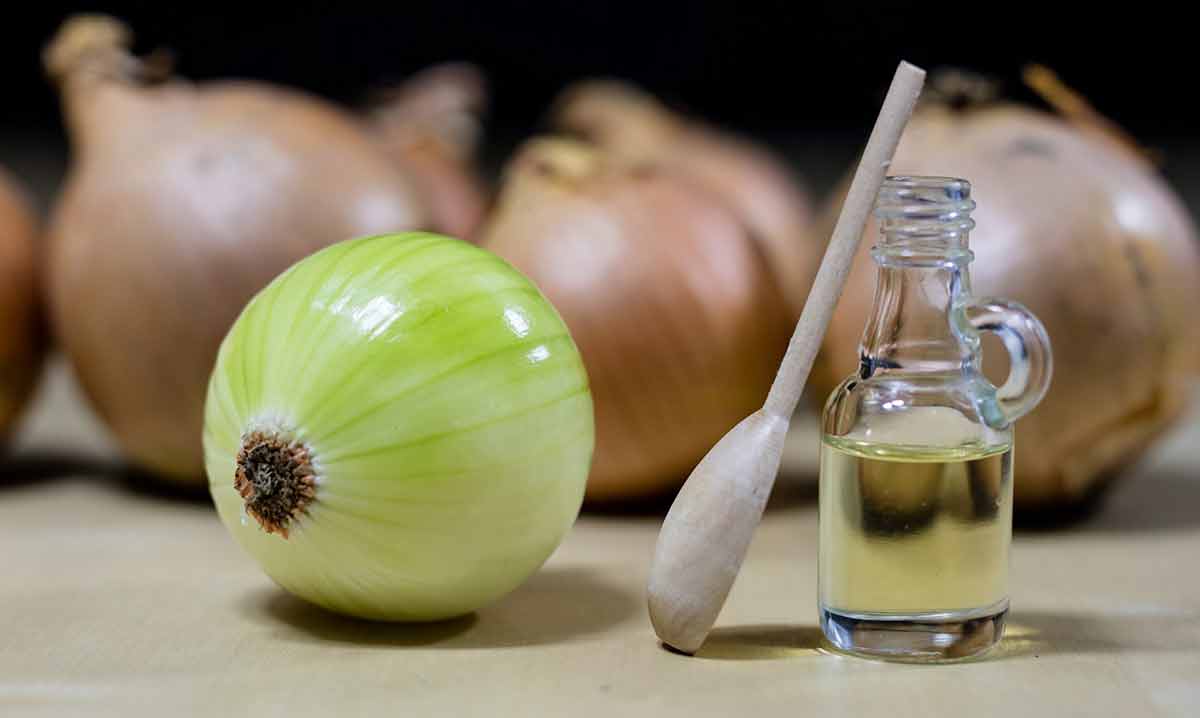 Rich in Dietary Sulfur
Onion juice is thought to be rich in dietary sulfur.
Now, why is this important?
Well, sulfur is very important because it is a key ingredient in the optimal production of proteins and enzymes.
And without getting too technical, there are two main things you need to know.
1. The main protein in hair known as Keratin is made from sulfur and

2. Enzymes are molecules that speed up a chemical reaction
Antioxidant Properties
Onions are naturally rich in flavonoids.
But What Exactly Are Flavonoids and what is their role in helping you to stop/prevent hair loss and increase the regrowth of your hair?
You might be wondering. Well, these are antioxidants believed to protect body cells from harmful, free radicals.
What you need to know is that a build-up of free radicals leaves your hair follicles susceptible to damage.
Powerful Anti-Microbial Properties
Has your scalp been too itchy of late?
It could be that you're suffering from scalp infections. In quite a few cases, scalp infections have been known to accelerate hair loss.
Fortunately, though, you can count on the natural anti-microbial properties found in onions to deal with such infections.
How to Use Onion Juice for Hair Growth
Click 'Play' Below For A Video Overview Of How To Use This Remedy!
You can watch this video on our Youtube Channel.
Didn't Watch The Video? Continue Reading Below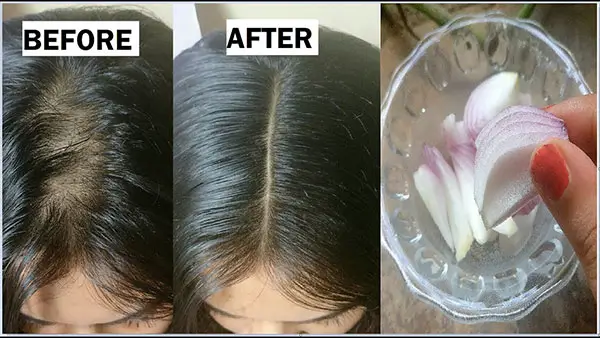 Let us now talk about the dos and don'ts of this practice. And to start us off is the following how-to guide.
What You'll Need:
2-3 Large Onions

A Small Blender Or Grater

Small Container To Pour Your Onion Juice

A Strainer

Cotton Balls.

An Essential Oil Of Choice
How To Prepare Your Onion Juice
Method #1 – Using Pure Onion Juice 
Step One
Peel the onion so you are left with fleshy leaves of it. Chop it up into small pieces and blend it to create a thick mixture.
Likewise, if you don't have a blender, you can use the grater to grate the onions to collect the juice.
Step Two
Place the blended or grated onions on a strainer placed on top of a bowl. This will enable you to collect the juice. We'd recommend sieving this juice twice to remove any onion pits.
Step Three
Add a few drops of essential oil of choice to help mask the onion smell.
Next, before applying this regimen on your head, you want to make sure your scalp is thoroughly cleansed. You can do so by washing it with a natural and gentle shampoo. If you don't have shampoo, you may use apple cider vinegar.
Step Four
To apply on your scalp, you'll need to use the cotton ball.
Simply dip the ball of cotton in the onion juice. Then partition your hair to reveal sections of your scalp where you can douche the cotton ball as you apply this treatment.
You want to partition as many sections of your hair as you can (one at a time) until you've pretty much applied the juice all over your head.
At the same time, avoid applying the juice to your hair strands. Instead, you want to focus on the scalp.
Step Five
Now that you're done applying the next step is to cover your head with a shower cap. Once that's done, leave the juice to sit in for 60 minutes or so.
Step Six
After the time has elapsed, wash your hair with a gentle and preferably organic shampoo. See how to get rid of the onion smell from your hair.
Note: Apply twice a week for 3 months if you want the best results.
How Tina Restored Her Full Head Of Hair!
Tina started using the Folexin hair growth supplement 2 years ago. At that time her hair was thin and according to her, it was in a very bad condition.
Tina's hair was just about shoulder's length but as soon as she started to take her supplements at the recommended dosage, she noticed the difference right away.
Her hair hasn't got thicker but now she's got a spiral permanent look and according to her, the growth rate is "fa nominal".
Tina always order 4 bottles at a time because she noted: You'll not find a better product for hair growth anywhere else.
Click Here To See How You Can Regrow Your Hair in 60-90 Days Naturally.
Method #2 – Onion Juice + Castor Oil 
Castor oil is rich in ricinoleic acid which is thought to help in fighting inflammation. When applied directly to the scalp, it is thought to support hair growth and protect against hair loss.
Therefore, mixing onion juice and castor oil is a good idea if you want to tackle multiple pressure points at once.
That said, we should warn you that this mixture can irritate your scalp. So, it's recommended to do a patch test particularly if your skin is a highly sensitive type.
What You'll Need:
2-3 Large Onions

Castor Oil

A Small Blender Or Grater

Small Container To Pour Your Onion Juice

A Strainer

Cotton Balls.

An Essential Oil Of Choice
Step One
Chop the onion into small pieces which you'll then put inside the blender for blending. If you don't have a blender, you can use the grater to grate the onions to collect the juice.
After this step, you'll end up with a thick paste.
Step Two
Place the paste on a strainer in such a manner that the juice from it will drip down to a bowl beneath it.
That way, you'll be able to collect just enough juice for use. You may want to strain twice so you end up with a clean form of the juice.
Step Three
Carefully pour the juice into the bottle. At the same time, get 1 tablespoon of castor oil and add it to this bottle.
Note: For these two to blend uniformly, you'll need to shake the bottle vigorously for a few seconds.
Step Four
Add a few drops of essential oil of choice to the blended mixture to help mask the onion smell.
With the mixture well blended, it's now time to apply it.
You'll need to partition small sections if your hair to create room for direct application on the scalp. For an effective application, you may want to use a cotton bowl.
You may also want to massage your scalp during the application. This will improve the rate at which the ingredients penetrate and also boost blood flow to your hair follicles.
Step Five
Cover your head using a shower cap or wig cap for at least 10 minutes.
You can leave it for up to 30 minutes if your scalp doesn't get irritated or itchy. But the moment you start feeling the heat, you might want to rinse off the mixture from your hair using clean water and your favorite conditioner.
Method 3 – Onion Juice + Ginger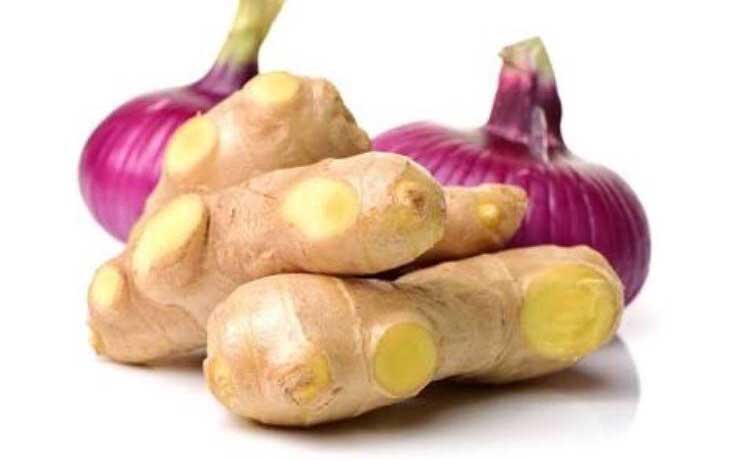 Ginger is believed to contain circulatory elements that can increase blood supply to your hair follicles. It's also may stop your hair from thinning given that it's rich in essential fatty acids.
What You'll Need:
2-3 Large Onions

Ginger

A Small Blender Or Grater

Small Container To Pour Your Onion Juice

A Strainer

Cotton Balls.

An Essential Oil Of Choice
How to Prepare
Requirements: Onion, Ginger, Blender, Strainer, Bowl, Cotton Ball, Carrier Oil, Tiny Bottle
Step One
Chop the onion and ginger into small, easy-to-blend pieces. Place it in your blender and blend to produce a smooth and consistent paste.
If you don't have a blender, you can use the grater to grate the onions and ginger to collect the juice.
Step Two
Place the paste on a strainer to squeeze the juice out. As usual, you might want to do this twice so you end up with nothing but clean, fresh juice.
Step Three
Pour this juice into your tiny bottle. Inside it, add a teaspoon of your favorite carrier oil it could be coconut oil, olive oil, etc. Once that's done, shake the contents vigorously for 30 seconds.
Step Four
Add a few drops of essential oil of choice to help mask the onion smell.
Next, use a cotton ball to apply this treatment directly to your hair scalps. Cover with a wig cap for 30 minutes before finally washing your hair with a natural shampoo or conditioner.
You may repeat this treatment once or twice a week.
How To Get Rid Of The Onion Smell From Your Hair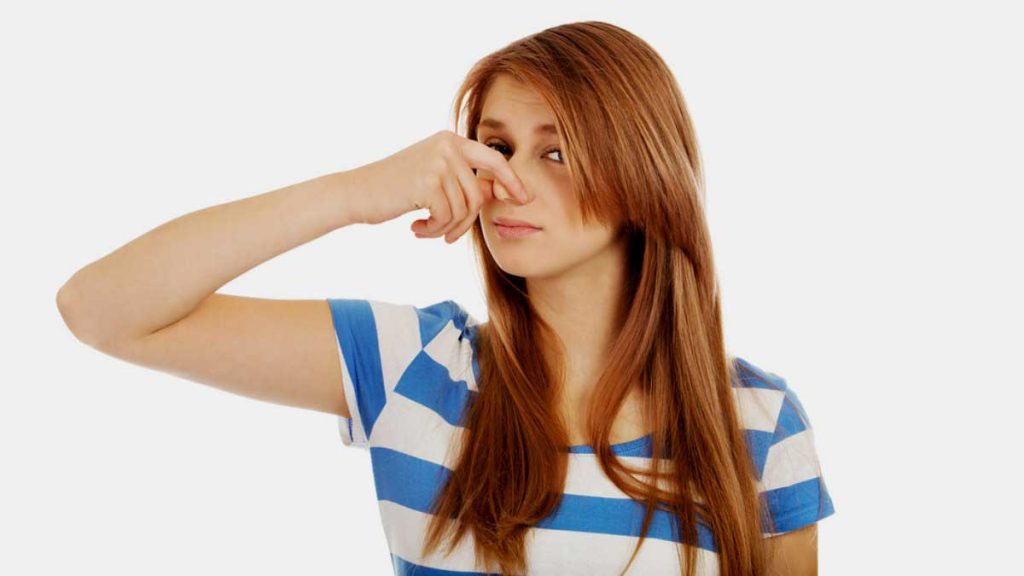 The pungent smell of onions might give you a tough time every time you apply this natural onion juice remedy of hair growth.
Fortunately, there are quite a few things you can do to deal with it.
Below I've listed some home remedies that you can use to mask the smell of the onions. You can choose any one depending on the availability of ingredients that you have.
1. Condition Your Hair
Wash off the juice with a conditioner. Once that's done, rub it using a stainless-steel object e.g. a spoon.
Sulfur, the cause of the pungent smell in onions, tends to be attracted to stainless steel objects. Therefore, by rubbing with a stainless-steel spoon, you can significantly reduce the onion smell.
2. Apply Some Lemon Juice
Lemon juice is quite effective at removing odor from just about anything in this world.
The only warning is that this juice can actually lighten your hair if it comes into direct contact with the sun. So, avoid going straight out into the sun upon using this method.
Generally, you need to work with some fresh juice. Apply it to your scalp and leave it on for 20 minutes. Rinse with warm water afterward.
3. Using Essential Oils
Some folks recommend adding some essential oils to the juice to mask out the smell. You may use peppermint oil for that because it's also known to stimulate the hair follicles.
4. Tomato Paste
You simply need to make a thick tomato paste using fresh tomatoes at home. Apply it and leave it to sit in for 20 minutes or so before finally rinsing out with warm water.
This isn't a popular method, though but some folks swear by it nonetheless.
The Most Frequently Asked Questions About Using Onion Juice For Hair Growth
Does Onion Juice Really Help Cure Hair Loss?
Cure is a very strong word to use - so the answer is No onion juice is NOT a cure. But rather, it is a great remedy to provide your scalp and hair follicles with essential nutrients and ingredients that acts as a catalyst for hair growth.
How Can You Store Your Onion Juice?
Add your onion juice to an air-tight container and store it in your refrigerator. This mixture will be good for up to two weeks. After that, you may want to get fresh juice if you decide to use the remedy again.
Can You Put Onion Juice Overnight On Your Hair?
Yes you absolutely can. However, before you do that, make sure to do a patch test first to determine if you have any diverse effects. Some people have very sensitive skin and so you want to be very careful not to cause yourself any unnecessary problems.
How Long Does It Take To See Results?
This will be different for everyone because we all have different hair growth rates. Typically though, with consistent usage of at least 3+ times per week for at least six weeks will result in noticeable results.
Conclusion
So in the article, we've provided you with 3 separate remedies on how to use onion juice for hair growth.
While it is not an overnight fix, if you apply any of the 3 remedies consistently for several weeks, we are sure you start seeing some amazing results.
So, there you have it – a guide on various ways you can put onion juice to use for your hair health. Thanks for reading!
Want A Faster Way To Regrow Your Hair?
While onion juice is a great remedy for hair growth, it is a slow process. Plus you have to be consistent over a long period of time to reap the rewards.
Folexin, on the other hand, can regrow your hair in as little as 60-90 days. Click here to see how it works and how to claim your bottle.
Let us know if you liked the post. That's the only way we can improve.