Some of the links in this post are affiliate links. This means if you click on the link and purchase the item, I will receive an affiliate commission at no extra cost to you. All opinions remain my own.
Even though Nutrafol is a highly popular hair loss supplement, Folexin doesn't lag too far behind either.
In fact, some natural supplement pundits think that Folexin is slightly stronger than Nutrafol only that it's not a buzzword on social media.
But between Folexin VS Nutrafol, which one of these two "pups" is the best to use?
If you have been looking for an effective hair growth solution, chances are high that you've come across one of the two hair growth supplements.
They are both highly recommended both on social media and on popular review blogs.
That said, which one should you try?

Or can you even try both of them at once?
Well in today's blog post, we are going to do a side-by-side comparison of the two products so that you can see which one is more suitable for your unique case.
If after reading our comparison below you still have questions that we may not have covered, you can use the comments section below to submit them.
We'll get back to you as soon as possible (usually within 24-48 hours) and we'll update this article.
That said, here's what we'll go over in this post to give you a comparison of the two on an apple to apple basis.
Folexin vs Nutrafol Reviews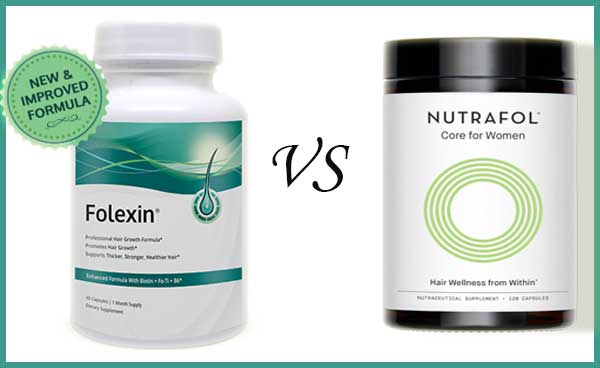 Brief Summary OF Folexin Vs Nutrafol
If you are in a rush, the table below will give you a bird' eye view of both supplements with a side-by-side comparison. You can then scroll below the table as we walk you through the differences and similarities of both products and give you our 100% unbiased recommendation.
Folexin

(Editor's Choice)

DEAL: - Order 4 Bottles, Get A 5th One Free!

Gender Specification - Same Product For Men And Women

Gender Specification - Separate Products For Men And Women

Money-Back Guarantee - 30 Days

Money-Back Guarantee - 30 Days

Dosage - 2 Capsules Per Day

Dosage - 4 Capsules Per Day

Worldwide Shipping
USA Only
Let's Take A Closer Look At These Two Popular Hair Growth Solutions
These two hair regrowth supplements are thought to be effective although they continue to attract negative reviews from folks who believe hair loss products are part of hokey pokey medicine.
What we know for sure is that different scientific studies have been conducted on each one of their ingredients.
A vast majority of the active ingredients in them have been shown to harbor significant benefits to hair health.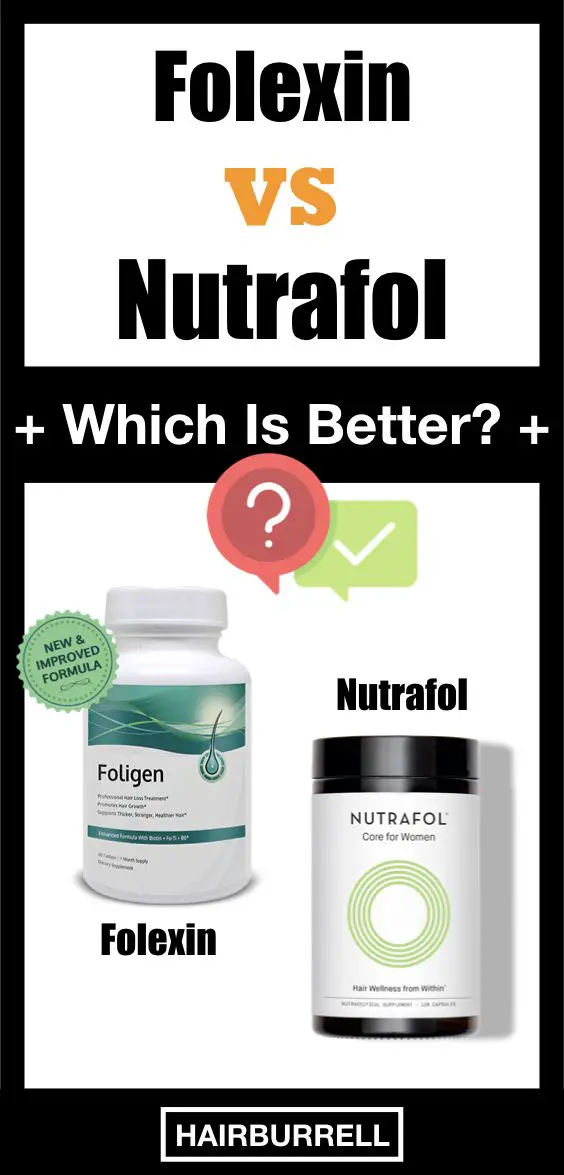 Of course, the products also contain some ingredients which we genuinely think need a bit more scientific evidence to be fully confirmed to work.
For instance, Folexin (& Nutrafol for Men) contains Saw Palmetto which, though scientifically backed, still needs further studies to fully assess its effectiveness.
The National Center for Complementary and Integrative Health (NCCIH) say that there isn't enough scientific data to support the use of Saw Palmetto for any health condition.
Also, Nutrafol contains Horsetail Herb extract which is traditionally used to treat wounds and burns. It is thought to influence testosterone production and hair loss in men although so far, we're yet to come across any peer-reviewed studies to back those claims.
The Good News
One good thing with these two hair loss supplements is that they contain Biotin, Zinc Oxide, and a bunch of vitamins.
Biotin, in particular, is well-known to improve the production of keratin (1). And just in case you didn't know it, keratin is the natural substance responsible for hair and nail growth.
It's no wonder some people report that their nails became stronger after several months of using either of these two supplements.
Hair Loss for Men VS Women
With Folexin, you get a one-size-fits-all formula for both men and women. But in our view, Folexin is best suited for men experiencing early hair loss signs.
Why? You might be wondering.
Well, as we've pointed out, the product contains Saw Palmetto which may influence testosterone production. Worth noting is that testosterone is a male hormone and, therefore, we just think that this product would work best if you're a man.
Nutrafol, unlike its competitor, has specialized formulas targeting the two genders. In fact, they have an extra formula for women in the menopausal stage of life.
In our view, their male version of the product isn't as strong as Folexin. But if you're a woman, you might want to give their female-targeted product a try since it's free from the testosterone-balancing Saw Palmetto.
Still, we've come across lots of positive reviews being posted about Folexin by women. So, it seems like a perfect pick for everyone but you might want to remember that it might slightly raise your testosterone levels unlike Nutrafol for Women.
Natural vs Lab-Made
Both supplements are made from natural, earth-grown ingredients. However, Nutrafol has some premium ingredients within it e.g. Sensoril. Basically, premium ingredients are further processed in the lab to improve their bioavailability.
While that's potentially good, some experts think that lab-handling of natural ingredients can make them lose their authenticity.
With that in mind, we think that Folexin has better ingredients because it uses them in their natural form.
So, you get the whole fruiting crushed and made into a fine powder. That way, you can get the benefits just as Mother Nature intended.
That said, the downside to taking generic ingredients is that only a small portion of them are absorbed into the body.
Therefore, most of the good stuff may go to waste (that's probably why you have to take Folexin for several weeks to allow for the effects to build up).
Pricing Of Nutrafol VS Folexin
A single bottle for Nutrafol will cost you 79 bucks if you sign up for a monthly recurring where they ship you a bottle every month or $88 if you just want a one month's supply.
We genuinely think that this product is insanely expensive given the fact that its ingredients are almost similar to the ones you'd find in Folexin which costs a fraction of that.
In fact, you'd only need to spend $18 per bottle if you buy Folexin in bulk. Or if you just want to test the product, a single bottle of it would cost you $25.
If you're a frugal shopper, Folexin might be the winning formula for you. But if you don't mind splurging and are looking for a gender-specific blend, you probably would find solace in Nutrafol.
Which One Works Better?
It's tricky to draw this comparison between Folexin vs Nutralfol because of the fine-print "The results are not typical."
But if we were to work with rough estimates, we'd say that most people who use Folexin reported the appearance of new hair strands within 10 to 15 weeks of continuous use.
Those who used Nutrafol reported similar gains within 3 to 6 months i.e. 12 to 25 weeks.
Are There Any Potential Side Effects?
We're yet to come across any major health issues or concerns associated with these two. That said, some of the ingredients in them may cause some side effects if taken in larger than recommended dosages.
Biotin may cause stomach upsets if taken in huge dosages

Too much saw palmetto may cause nausea and constipation
So, it's important to stick to the recommended dosage. Never take more than the recommended number of pills no matter the situation.
Folexin VS Foligen - Which One To Choose?
Here are our final thoughts on the Folexin vs Nutrafol battle.
If you're a man facing early signs of hair loss, go with Folexin

On a tight budget? Stay with Folexin

If you're a woman and are prone to hormonal imbalance issues, get Nutrafol for women

Looking for faster results? We think Folexin has the lead.
Ready To Place Your Order? Choose Your Option Below:
Order Folexin – One bottle $24.95 (Use coupon FLAVA10 For addition 10% Off) – Buy 4 bottles and get an additional one Free!
Order Nutrafol – One Bottle $88 or $79 if you choose to subscribe.
Conclusion
We hope that you'll be able to make an informed choice. Most importantly, we hope that you'll be able to nip your hair thinning problem in the bud using one of these two products.

Let us know if you liked the post. That's the only way we can improve.